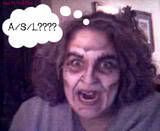 Cemetech Civility Maintenance SuperMod

(Posts: 2574)
Well, as I am quite sure you have noticed lately, the grammar and spelling here has become somewhat appalling. This thread is a list of rules you
need
to follow in order to be taken seriously. This is an intellectual forum, and if you cannot spell, perhaps you should be on 4chan...
1. "You're" is
not
the same as "your." If you can't get this straight, try not to use contractions... period.
2. "teh" is
not
a word, unless your favorite site is Neopets...
3. Capitalization is not a
suggestion
, it's a
rule
4. Punctuation is a necessity. (Yes, those commas and periods were created for a reason)
5. Don't be afraid to use the "Enter" key on occasion, and split that 3 page blob up into several different (more readable) paragraphs.
If anyone (cough cough Kllr) has anything they'd like to add, just post it here...